True Neapolitan Pizza in the history, the Antica Pizzeria Port'Alba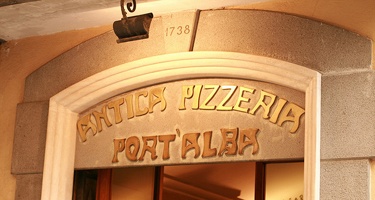 The Antica Pizzeria Port'Alba opened its doors in 1738.

Actually, at that time, it was an old oven-laboratory forerunner of the current pizzerias; in fact in the premises the pizzas they prepared and cooked looked more like some flatted loaves topped with lard and the sellers bought them in Port'Alba.

The pizzas hot, freshly baked, were placed in some takeaway stoves in order to sell them, folded into four, around the city. In 1830, with the first generation of Lucianos, that are still the owners of the restaurant, Gennaro converted that laboratory into the first pizzeria with waiting service where traders and travelers who entered or left the city through Port'Alba, the door of the Decumano Maggiore , used to stop for a break or for business talk.

Since then the Luciano family has collected many anecdotes to tell, such as the visits of Ferdinand II of Bourbon, best known as King Nasone (big nose King), who used to go incognito to the pizzeria to feel the pulse and mood of his people. "But - says Gennaro Luciano descendant of the namesake forefather - there are many stories such as the challenge between Ferdinando Russo and Gabriele D'Annunzio, who just at the tables of the Antica Pizzeria Port'Alba, composed the verses of the famous song" Vucchella "in order to demonstrate to Russo that he was able to write "roundelays". Among other famous customers there were Moscati and Cardarelli and many more.

"The tourists were delighted by stories that combine fascinating legend, with history, trivia and tradition, and they all had the chance to taste the oldest street food in the world: the quad-fold pizza. the tourist route does not end here, it goes on towards Porta San Gennaro where they will visit two other historical pizzerias: Lombardi and Capasso. Stay tuned for the next episode!