MC DONALD AGAINST THE TRUE NEAPOLITAN PIZZA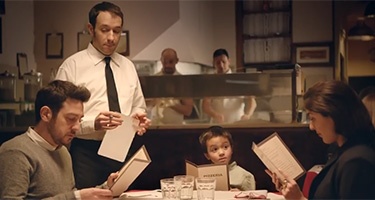 Stop making money out of children! – words by Massimo Di Porzio, Vice-president of the True Neapolitan Pizza Association – our legal office is considering to use law in order to stop this dishonourable attack against one of the symbols of the Mediterranean Diet.
Di porzio states that it is ignoble comparing two products very different from each other, especially if it is for discrediting those restaurants most loved by Italian families: pizzerias. Also, it is already well known that children love pizzas, especially for the taste. It is obvious that the American colossus is trying to discredit its main competitor, but speculating on children's health is just too much. Furthermore, it is not the first time that Mc Donald attacks our culinary traditions, but this time we are willing to take some legal countermeasures. Also, should we ever get money from them, the AVPN will surely use that money to estabilish educational nutrition courses for children.
The AVPN President Antonio Pace replies as follows: "Is the happy meal really more inviting than the neapolitan pizza? If so, isn't it because of the gadgets that children find inside it? I want to stress the fact that pizza was an international product much more before than Mc Donald was estabilished and that everyone know that children love pizzas. We do not feel ourselves in completion with them, in competion with a product so different from ours. Pizza is the flag of the Mediterranean Diet. Mc Donalds marketing is aggressive, it is based on the so called Loyalty marketing, insisting on children since their youngest age: Happy Meal contains a hamburger, fried potatoes and a small cake. However, the most important thing is the gadget inside it. I want to say also that Disney, almost ten years ago, rescinded the contract with the Fast Food Giant because the latter was responsable, according to some American researches, of causing obesity among young people: that was unaccettable for Disney, wich gave up millions of incomes as Mc Donalds is the biggest toies supplier in the world.
However, as far as we are concerned, the real problem is not really about marketing, it is about the quality of the products offered to children. A standard margherita (with 250g of dough) has around 800Kcal, but children do not usually eat a whole pizza. So, if we reduce the size of a standard pizza and then we add a drink (without gas), we will reach 700Kcal per meal. A Happy meal has 600Kcal, which for a children are just too much. However, it is not about "how many Kcals there are per meal", but it is a matter of "what kind of quality" they are! What kind of meat do they use to prepare their hamburgers and how many fats they have? What kind of oil do they use to prepare their potatos: colza oil? How much mayonnaise do they put on their hamburgers? And how about the preservatives contained in their bread? The true napolitan pizza, which is a product guaranteed by our international regulations, it is a "handcrafted" product which only uses selected raw materials, like mozzarella di bufala, fiordilatte, tomatos from Campania and extra virgin oil. In this way, pizzas results in a complete and balanced meal from a nutritional point of view. It is time for parents to control what their children eat: junk food might be ok if consumed now and then, but they should teach their children to eat clean everyday. They must. And eating clean means to follow the culinary culture offered by our wonderful Mediterranean Diet: it will supply parents with the right tools to choose among a great number of meals which are not only tasty and healthy but, above all, Italians.
P.R. - Media Relations
Rosaria Castaldo
Ph. 0039 335411936