Second National AVPN event for the verace gas oven to certify the pizzeria 'O SCUGNIZZO by PIER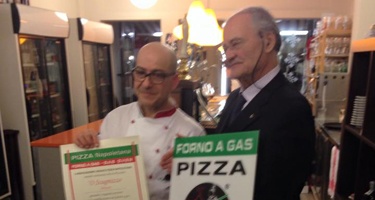 Arezzo - Friday, May 22 the pizzeria at Via de 'Redi played the leading role in a special soirée with the president of AVPN, Antonio Pace. Just the right moment to taste the great classics of the Neapolitan pizza made by using the newValoriani gas oven.

In fifteen years, Pierluigi Police, the business owner, has delighted and get the palates of Arezzo used to the taste and quality of a pizza that once again propose the style and flavor of the traditional Neapolitan pizza obtaining the consent of the most demanding palates. The association, according to its founding values and its mission, therefore decided to give the pizzeria O 'Scugnizzo Certification identifying its pizza as "Verace Pizza Napoletana" and including it in its global network of pizzerias.