Discovering the register of suppliers: the Molino Dallagiovanna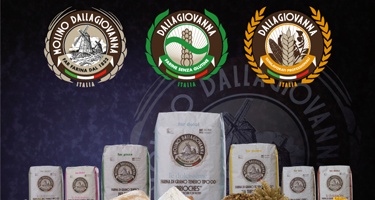 Making flour since 1832.The Dallagiovanna story is linked to the history of flour since 1832 when, by milling grains, the family began to represent the forefront of the new industrial spirit which was taking Europe by storm and uniting science and craftsmanship for the first time. Over the years, this craft has been continued by the new generations with the same pioneering and traditional approach.
Nowadays, the business is run by the 5th and 6th generations of the family, offering a very wide and varied range of products which are validated by the leading quality certifications and processed using the finest technology of all time with the expertise passed down from one generation to the next.
There are over 300 standard and custom-made flours, a range of gluten-free and lactose-free mixes specially-made for each sector of baking, professional blends and specific flours for pizza with all the goodness of the germ in wheat and various other grains.
Both all-purpose flours and flours which are researched specifically for the various food sectors – pastry, pizza, pasta and bread – start and end their journey in the Dallagiovanna laboratories.
In almost two hundred years, Molino Dallagiovanna has become one of the most productive and forward-thinking milling companies, capable of exporting the values and excellence of Italian food, demonstrating their intuition and stability.