Piazza Pizza is back at Cheese 2015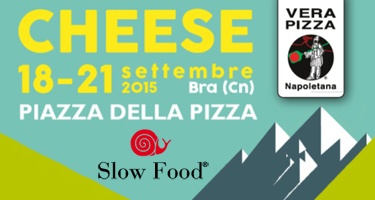 Four days to discover all the secrets of the Neapolitan pizza
From Friday 18 to Monday, September 21, in the courtyard of the Scuole Maschili in Bra (Cn), returns the Piazza Pizza, as part of Cheese 2015. The only place where you can find out all the secrets of the Verace Pizza Napoletana and meet the best Masters thanks to the well-established collaboration between Slow Food Italy and the Associazione Verace Pizza Napoletana.

Pizza Pizza will be led by the Brianza Neapolitan Corrado Scaglione, trustee of the Associazione Verace Pizza Napoletana in Lombardy and owner of the Enosteria Lipen in Canonica Lambro (Mb), supported by Paolo Surace, coordinator of the Executive Council AVPN, in organizing the brigade of the Masters Pizza Makers.
Each day from Friday to Sunday from 11.00 to 12.00 you can use your hands thanks to some workshops about the True Neapolitan Pizza dough preparation for families and fans with two outstanding speakers, the Masters of 'Associazione Verace Pizza Napoletana Giovanni Improta and Luca di Massa.
There will be three then daily appointments with the Tasting workshops: Friday 18 the day will be dedicated to the historical pizzerias of the center of Naples with Paolo Surace (Pizzeria Mattozzi in Piazza Carità), Gennaro Luciano (Antica Pizzeria Port'Alba) and Vincenzo Esposito (Carmnella ). Saturday 19 will be the turn of the border stories with Ciro Oliva (Concettina ai Tre Santi) in the District Sanità of Naples, and Walter and Guido Picariello (Pizzeria Gennaro Esposito in Turin) and Davide Finotti (Pizzeria Gennaro Esposito in Bra).Sunday 20 the rendezvous is with the researchers of the dough and raw materials: the Varese by adoption Antonello Cioffi (La Piedigrotta) and the Neapolitans Salvatore Grasso (Gorizia) and Attilio Bachetti (Da Attilio). And, finally, on Monday 21 a journey through the world of pizza outside Naples with Corrado Scaglione (Lipen, Canonica Lambro), Salvatore Gatta (Fandango, Scalera), Domenico Martucci (Per Bacco, Cuneo) and Coorporazione Pizzaioli of Tramonti. Thhe pizza makers will tell the history and technique at the base of their work together with, Stefano Auricchio, General Manager of the Associazione Verace Pizza Napoletana and Antonio Puzzi, Project Manager Slow Food for Campania and Basilicata.
For those who want more, They can attend a real day of study to find out Monday, 21 September from 10.00 to 13.00 "The Sourdough naturally Verace", a workshop dedicated to theworkers in the sector and organized by The 5 Stagioni and Associazione Verace Pizza Napoletana. During the course will be revealed all the secrets of the The Sourdough naturally Verace. Each participant will receive a complimentary copy of the book "Flour, water, yeast, salt and Passion," the card "Friend of Vera Pizza Napoletana" and a Jacket by "Le 5 Stagioni". For info and reservations solely for the workshop please contact v.alberti@agugiarofigna.com
Info: marketing@pizzanapoletana.org